Overview | What's Included | Pickup Options | Delivery Options | Payment Options
What is Willo' Wind Farm's CSA?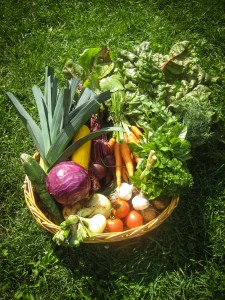 Willo'Wind Farm is a 50-acre family farm based in Zephyr, Ontario, since 1984. Our garden is cultivated using organic practices and our farm is home to many farm animals and other wildlife.
Community Supported Agriculture (CSA) is a system of growing and distributing organic produce that restores the connection between farmers and community supporters. CSA systems provide farmers with an equitable return for their labor and establishes a strong foundation for sustainable agriculture while contributing to a healthier environment.
Your commitment to sustainable farming preserves biodiversity and builds a healthier, local and sustainable food system!
Thank you to everyone who signed up for the Summer 2022 CSA!
What is Included in My CSA Box?
Organic, Farm-Fresh Produce
We fill each summer box with a selection of seasonal produce directly from our farm's greenhouses and fields, as well as a small amount of produce from a few partnering organic farms.
Add on options
You have the option of adding the following products to your vegetable CSA.
Eggs
Willo'Wind also offers eggs from hens raised on our farm in a humane ecological way. You are able to purchase eggs through our Egg CSA alongside your Vegetable CSA, or simply receive just our Egg CSA on a bi weekly delivery.
Maple Syrup
Receive a bottle of maple syrup once a month for 5 months! Choose from 250ml, 500ml. or 1l bottles. Maple syrup is produced by Pefferlaw Creek Farms
Honey
Receive a jar of honey once a month for 5 months! Choose from either 1/2 kg or 1kg jars. Honey produced by Autumn's Bounty.
Size Options
Regular Share: $600/season Best suited to 1 to 2 adults or a small family.
Large Share: $850/season Best suited to 2 adults who eat a lot of vegetables or a larger family.
Pickup/Delivery Options
With your CSA you have the option of either;
pick up at one of our pick up locations
Willo'Wind Farm, Uxbridge Farmers Market,
Bloor Farmer's Market , The Village Market
Or have your box delivered to your door.
We deliver to Uxbridge and surrounding hamlets, Zephyr, Sandford, & Leaskdale.
We deliver to Toronto both to the west and east end
There is a fee for the delivery option to cover the costs of gas and time to deliver plus a bin fee to cover the costs of buying and cleaning the bins used for delivery.
We also offer a discounted delivery fee for group delivery.
Payment Options
You have the option of paying for your CSA in either:
A onetime payment
Two payments: half the cost when you sign up, the other half Feb. 1st
Five equal payments, one at point of sign up and once a month from July to October
We accept cheques, cash and email money transfers as methods of payment.
Notes
CSA Bin Use Charge
This is an $8 charge on top of the Vegetable CSA, to pay for the use of the blue bins that your vegetables come in. This helps share the cost of replacing missing and worn-out bins, as well as the labor involved in cleaning them.