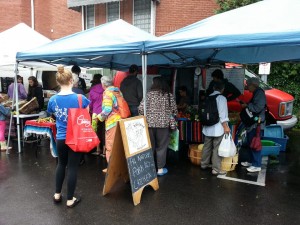 We love farmers markets as much as you do! Come visit us in person at your nearest location.

If you're interested in getting boxes of fresh organic produce delivered to your location, please find more details on our CSA delivery page , or visit our online shop.

Junction Market in Toronto
Saturday 9am-11am
2960 Dundas Street West, Toronto, ON
We're thrilled to be a part of the new farmers market in the historic Junction area of Toronto. Even though it's new, it has attracted a lot of positive feedback from the likes of the Bloor West Villager, BlogTO, and Toronto Life magazine. We know that it's always bustling with friendly faces and wonderful vendors! Visit the Junction Market website for more information.
Uxbridge Farmers' Market
Sunday 9am-2pm

14 Victoria St, Uxbridge
The market that is closest to both our farm and our hearts, the Uxbridge Market strives to have only local produce and craftspeople represented giving you a taste and experience unique to Uxbridge. If you are looking for farm fresh produce and meats, home made preserves and baking, as well as hand made crafts and artwork the Uxbridge Farmers' Market is the place to be! Visit the Uxbridge Market website for more information.
Evergreen Brickworks in Toronto
Not currently active

550 Bayview Ave, Toronto, ON
Every Tuesday, we visit the Brickworks to deliver fresh produce boxes to our CSA customers. While we're there, we offer our usual variety of in-season produce and meats to anyone who is interested. For more information, please visit the Evergreen Brickworks CSA page.
Newmarket
Saturday 9am-12pm
Newmarket Riverwalk Commons
(corner of Doug Duncan and Timothy St.)
Every Saturday Morning from the first weekend in May to the last weekend in October, a band of farmers, vendors and volunteers create a hive of activity reminiscent of the town's early years as a new market. A place to buy farm fresh produce, home-made baking, hand-made crafts and a great place to meet up with friends over breakfast or lunch.
Bloor – Borden
"MYMARKET®"
Wednesday 3pm-7pm
Lippincott Green P
MyMarket® is Canada's first Verified farmers' markets featuring verified farmers, selling only what they produce. We are committed to helping shoppers enjoy the benefits of eating local as well as supporting farmers who are the "real thing".