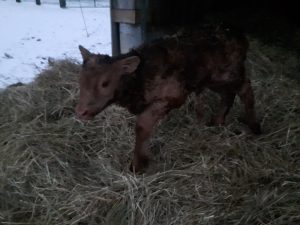 Dear Friends,
What a wonderful way to enter the season of Christmas – we have received the birth of a new baby heifer here at Willo'Wind! We are particularly pleased because after a long time of only little bull calves this little heifer will stay here, receive a name "Caramel" (!) and become part of our breeding herd.
We also want to let you know we are having a Christmas Sale with deliveries going out Tuesday Dec. 18th & Thursday Dec. 20th. You will find a list below of everything on offer. In particular we think our Maple Syrup and Honey are great gift ideas, not to mention the pickled peppers for those hard to buy people on your list. We are pleased to say that this honey was the Grand Champion BlueRibbon Winner at this year's Royal Winter Fair!!
Delicious sausage and pork chops for a quick dinner on busy days and smoked hams for a holiday dinner are always good to have on hand. We also have a small supply of eggs for all the baking ahead! To order simply email us your choices or give us a call: 905-852-3878.
It is shaping up to be a great season for Sleigh Rides. This is a wonderful way to get together with friends and family and is also a great gift idea. All CSA2018 customers are HST exempt!
May this season of peace and hope carry us all into the New Year!
From our family to yours, Elizabeth & Adrian
As you peruse what we have for sale and stock up for the winter, note that on order $100+ there is a 10% discount!
Maple Syrup 1 litre $25 500ml $15 Honey 1kg Liquid $14 Creamed $14 500g Liquid $10 Creamed $10
Pork: Bacon $10lb Chops $7.lb Ribs $7. Roasts: Bone-In Ham (Not- Smoked) $6.50lb (Smoked) $7.lb Sausage $10lb Honey Garlic Jalapeno Mild Italian Hot Italian Mushroom Smoked Ham Steaks: $7.50
Eggs: $8 doz.
Pickled Peppers: Large $12 Small $8 Stew Hens: $10 bird Roasting Chickens: $6.50lb