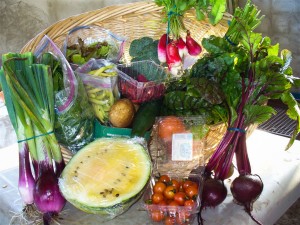 We have started our CSA membership sign up for the coming 2014 season!!!
A very big thank you for supporting our farm for the 2013 season. A strong local sustainable food system is only possible because of people like you who support it. We hope you enjoyed the benefits of receiving fresh local organic food through our CSA program and will sign up again this coming year!
 CSA programs continue to prove to be successful models for farmers and consumers to work together in establishing a  strong local food system. The number of CSA farms and models has steadily been increasing since the idea took root in Japan around 1965. It is estimated that there are now 15,000 CSA farms across Canada and the USA, with the largest ones having up to 1500 to 12000 members. WOW!
We had a long cold snowy winter this year. Although it seems like spring will never come, we are eagerly anticipating its first signs. At the farm we are starting to get that itch that can only be satisfied by working the ground and growing food for another season.  The soil is still covered by lots of snow but the first seedlings are already filling up the greenhouse and we have officially started our growing season!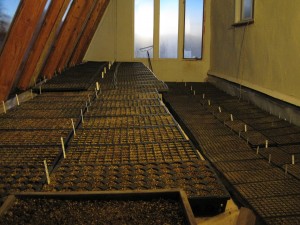 Sign-up for the CSA early and help us reach our goal of 100 members for the 2014 season!  Signing up for the CSA earlier in the season  gives us a good idea of the number of returning members early on and helps us achieve our target number of memberships. An added benefit of early sign up is if your application and first payment is in by April 15th we will give you a $20 certificate to spend on any farm products throughout the season. Another great way you can help us fill our membership is by telling your friends, neighbors, co-workers, etc. about our CSA program. And to thank you for helping us we are also giving away $15 certificates for every new member you help sign up. Just simply ask your friend, neighbor, etc. to write referred by and your name on their application form.
Community Supported Agriculture is not just about buying fresh local food but also about having a strong connection to your local farm business. When John Peterson, a well respected CSA Farmer, on a panel was asked: What is the best way to put the culture back in agriculture? His reply was; "We all need to have a connection to a farm, to have at least one farm in our heart, a connection to the earth. Farms are like poetry, they all have stories to tell". This connection, the sharing of our farm and the stories and bounty it has to share, gives us added meaning to the everyday hard work of producing real food. We look forward to another growing season with you and hope that our farm can hold a place in your heart.
Click here to view the application form and start your sign up process. Just fill out the form and email it to us or you can mail us the printed, filled out copy. Click here for our address.
Please contact us if you have any questions